PilatesBreath.COM WHEN IN DOUBT BREATH OUT!
Always check with a doctor first before doing any physical and/or therapeutic body work. Breath work can have deep emotional consequences too.
You might feel much better very quickly - do not overdo regular activities. People feel better so quickly that they can hurt themselves in the real world.
WORK SMART - BE CAREFUL!
PilatesBreath.com PilatesTherapyBed.com Pilates-Equipment-Plans.com Pilates-Chiangmai.tripod.com FreePilatesOnline.com All breath leads to Pilates breath - PilatesBreath dot com
Visit our detailed information forum
Buy the simple DIY PLANS at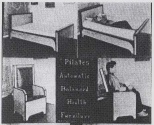 Joe Pilates had a brilliant idea for a bed. A Therapy Bed!
The Pilates Therapy Bed
Wake up refreshed & released!
Joe Pilates invented some amazing health equipment. One of them was his V-shaped bed. Genius!